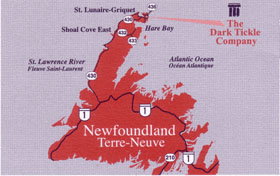 The Dark Tickle Company is located in Griquet, on the Great Northern Peninsula in the province of Newfoundland and Labrador, Canada. We manufacture jams, sauces, tea, coffee, vinegars, drinks, and chocolates from unique wild berries. These berries, picked by hand, are carefully processed without additives resulting in a quality product that is both distinctive and delicious.
The company itself employs a relatively small number of people involved in processing. We purchase from a network of approximately 100 individual pickers covering a large area including the top half of the Great Northern Peninsula of Newfoundland, the coastal regions of southern Labrador, and northeastern Quebec. Berry picking which has been historically, and still is a strong tradition in areas such as these, is now also perhaps one step in the slow diversification of a fishery based economy.
• Our name. A 'tickle' is a narrow salt water channel. It is also the area in Griquet where we were originally located and as represented by the picture in our labels. In our case it is 'dark' as it is surrounded by high hills.
• Our focus is to offer a taste of the unique handpicked wild berries of Newfoundland and Labrador.
• These presently include the bakeapple (cloudberry), partridgeberry (lingonberry), crowberry, squashberry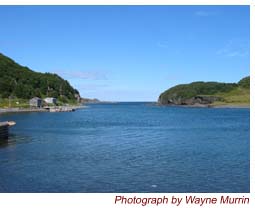 and wild blueberry.
• We use no additives or preservatives.
• As a wild product from a remote location they are free of the various chemicals nearly always associated with cultivated products.
• We present a high quality product.
• Our plant is federally registered and inspected by the Canadian Food Inspection Agency (CFIA).

The Dark Tickle Company is a member of the Économusée / Artisans At Work Atlantic network https://artisansatwork.ca/.

Dark Tickle Expeditions - Icebergs, whales, dolphin, & seabirds! An innovative interpretation program including components above and below water. The tip of the Northern Peninsula is one of the best places to see icebergs on the planet. Come aboard as we get you up-close and personal! See majestic fin, minke, humpback, orca, and dolphin frolic off our shores. Eagles, hawks, gannets, murre, kittwakes, and a plethora of seagulls soar overhead. Utilizing a remotely operated underwater vehicle (ROV) explore the flora, fauna, and historical elements of the underwater realm! Climb onboard our 28 foot offshore RHIB (rigid hulled inflatable boat) for an experience of a lifetime!
Café Nymphe is an historically-themed bistro housing The Granchain Exhibit; a journey through a unique part of world history, the adventure and peril of the French migratory fishery along Newfoundland's "Petit Nord". Bask in our cozy atmosphere, while perusing the interpretive panels, artifacts and multi-media. Great coffee, a variety of teas, soup, sandwiches and daily specials!

How to Get Here
N 51° 30.289'
W 55° 28.878'
The Dark Tickle Company is located on route 436 on the tip of the Great Northern Peninsula in the province of Newfoundland and Labrador, Canada. Take route 430 off the Trans Canada Highway (route 1) at Deer Lake. Proceed approximately 420 km north on route 430 to route 436. The Dark Tickle Company is located in St. Lunaire - Griquet about 19 km along route 436. This is the same route as the L'anse aux Meadows National Historic Site.